Schilke Trumpets from 1956 to 1961
Though Schilke Music Products, Inc., has been in business making trumpets and cornets since 1956, the current model line and serial number sequence begin in 1961. Prior to that time, Schilke made trumpets which clearly show the design principles incorporated into the later horns (lightweight materials, reverse leadpipe, minimal bracing), but which were made in very small quantities to individual orders. Horns that are over forty years old are still unmistakably Schilke trumpets.
The earliest trumpets, so far as I have been able to find, had three digit serial numbers. I have communicated with the owners of Schilke trumpets that have serial numbers 207 and 208, both made in 1956. At some point, when production increased, the numbering system changed. The serial number then became the date the horn was plated. The beautiful example shown below, for example, bears the number 2358, however that does not mean the horn was made between horns numbered 2357 and 2359; it means that the horn was plated on February 3, 1958. This was recently verified for the horn's owner by the company. A copy of a 1958 Schilke print advertisement can be seen here. Notice, remarkably, that the horns are available in lacquered brass. By 1961, no such option was available.
Additional differences from the earlier horns are numbers (1, 2, and 3) on the valves, deeper valve buttons (though hexagonal caps, buttons and braces remain), nickel silver valve components (now brass), and brass valve guides (now plastic). The single small label "Schilke" on the second valve casing is found instead of the familiar post 1961 hallmark "Schilke, Chicago USA" in a small box on the second valve casing.
For photos of the Schilke trumpet 2358, click on the following:
I am grateful to Ron Jimison, of Grosse Pointe, Michigan, a true Schilke loyalist, for photos of his vintage Schilke trumpet.
After Yamaha hired Renold Schilke in the late 60's to "consult" and to design some of their first instruments for the North American market, Yamaha and Schilke cooperated in a number of joint projects up until the Mr. Schilke's death in 1982.
One of these projects was the M series, designed as "intermediate" horns to expand Schilke's market share. Though there were a few M series C and E flat trumpets made, a series of trumpets for Byron Autry, and a few cornets, primarily the M series horns were B flat trumpets built along the specifications of the Schilke B5 (medium large bore, medium large bell). Accurate records were apparently not kept, at least according to one former employee, in contrast to the fastidious records concerning Schilke's custom horns, and so estimates as to the number of horns made is based partially on conjecture. There seem to have been about an equal number of M-I and M-II horns made, with about 1500 of each. Two tunable bell M-II's were made. The first M series horn was made in 1969 and the production seems to have peaked in the mid-seventies. After Mr. Schilke's death in 1982, the relationship with Yamaha and Schilke terminated and no more Yamaha parts were ordered by Schilke. The last M series horns were made in 1984, using up the supply of parts on hand.
The M-I horns were made ("put together" might be more accurate) by Schilke of entirely Yamaha fabricated parts. The M-II horns were made simultaneously with the M-I's. They were built with Schilke leadpipes and for a short time in the earliest years, Schilke bells. According to an early 70's Schilke catalog, the M-II was priced at $20 more than the M-I.
Each of the M series horns had adjustable third valve slide rings and spit valves on the third valve slides, as is common in student or intermediate horns. The bracing were all round (as opposed to hexagonal), and none had the two little nibs on the second valve slide found on Schilke custom trumpets. Some of the M series had first valve saddles, others didn't. They also have the Yamaha design details described below in the Yamalloy valve curse and had serial numbers between 20XXX and 29XXX.
I've recently become aware of a number of very early M1 horns which do not fit the description above. Erik Kurz told me that he had an M1, bearing serial number 16XX, which he took to show Renold Schilke in 1976. Schilke told him it was the first M series trumpet sold. One sold on e-Bay in October 2000 which had serial number 1802, which had a strange mouthpiece receiver, Bach-like valve slides, and odd bell/valve cluster braces. Many un-Schilke like parts. Mike Lawler reports that he has an M1 with serial number 17XX, which sounds very much like these two.
There are also perhaps a dozen M-II's which have "Autrey" stamped on the mouthpiece receiver. These horns were made at the instigation of Byron Autrey during the early 70s while he was professor of trumpet at Michigan State University. These horns were identical to the other M-II's except that they had a more open F. Besson shaped leadpipe.
The M-series trumpets had almost nothing in common with the manufacturing quality and quality control found in Schilke's "custom" horns, as they were not manufactured of the same parts or with the same processes. According to a former employee, they were often assembled in an hour, whereas Schilke used to brag that the "real horns" required 80 hours of manufacturing time. The price of an M series B flat was about 80% of the cost of a Schilke custom trumpet. Most folks wisely elected to come up with what was in those days another $100. For more information and a different view on the quality issue, see the letter to a customer from Mr. Schilke.
As occasionally happens, some of these horns play quite nicely, very similar to the B5, but most are essentially equivalent to older model Yamaha intermediates, and should be priced accordingly. There are usually a couple of M Series trumpets floating around for sale and one would be worth using as a student horn, or for marching band, if he or she could buy it for a student horn price, $350 - $400. I saw one posted for sale for $1200 and I laughed and laughed and laughed. One actually sold on e-Bay for about $750 and that was almost as funny, since an extra $100 can still buy you a good used Schilke custom trumpet, which is a much better horn.
As part of the Schilke-Yamaha collaboration, Schilke used valve casings built by Yamaha from 1972 until March 1982 for many of Schilke's more popular horns, such as the B1, B2, B5, C1, and C2 trumpets and XA1 and XA7 cornets. These horns play like the Schilkes with Schilke valve casings but have a history of valve problems. Arturo Sandoval's first Schilke, the one upon which he built his reputation, was a B1 with a Yamaha casing. These horns are not all that difficult to recognize. Even though the company serial numbers in 1972 had only crept up to approximately 7800, the horns with Yamaha casings started with serial number 20XXX. When the original horn serial number sequence hit 19999, Schilke skipped the 20000 to 29999, and continued on with 30000. So, only those horns with Yamaha casings have serial numbers from 20000 to 29999. In addition, those horns with Yamaha casings are distinguished by bowed tubing, rather than straight, between the valves; by braces between the valves that are round (Yamaha), rather than hexagonal (Schilke); and by two thin lines about 2/3 up the valve casing (Yamaha), rather than a beveled edge about 2/3 up that leads to the upper 1/3 with a slightly larger diameter casings (Schilke). The bottom valve caps also fit looser on the Yamaha valve casings than on the Schilke casings. Finally, it appears to me, based on a fairly small sample, the number on each valve to indicate which valve it is (e.g., 1, 2 or 3) face the mouthpiece receiver on the Yamaha built valves and face the bell on the Schilke built valves. If this doesn't seem to apply to your valves, please e-mail me so that I can keep this stuff accurate.
Unfortunately for Schilke, during that time, Yamaha was experimenting with a new alloy, something other than the traditional monel or nickel, for use as valves, a metal which has now come to be known as Yamalloy. It apparently looked good on paper, but, as it was explained to me, the Yamalloy reacts chemically with individual body chemistry and the brass in the valve casings causing them to hang at the most inopportune moments or otherwise require lots of finicky care and aggravation. This lead to both Yamaha and Schilke trumpets from this period suffering a poor reputation because of the valves. Since personal body chemistry appears to be part of the problem, many owners of these horns suffer no difficulty at all, just as some people have problem with the acids and perspiration in their hands reacting with horn finishes and others do not.
As it turns out, there is a fairly simple and inexpensive solution to this problem. An expert repairman in Indianapolis, Bob Frost, discovered, as I understand it, that by lapping the valves with some less common finer lapping compound and sealing the valve casings, the problem is solved. The cost for this is modest and the turnaround time short. I have had two trumpets so repaired since 1997 and the valves are spectacular on both--just as one would expect of horns of this price and quality. Bob is a former Los Angeles studio trumpet player and master repair technician. He did the work and then kept the horn a week and used it in his teaching and playing to make sure that the job was successfully completed. When one gets the horn back, he or she needs to clean with soap and water the valves and casings completely every couple of weeks for a couple of months to make sure that errant lapping compound which makes its way back to the casing is not around to damage the pistons. To save money, ship the horn without the case, wrapped in a 4 or 5 inches of bubble wrap in a box of crumpled newspaper or styrofoam popcorn. The best price for UPS shipping is at the UPS Customer Counter rather than at a Mailbox Etc. sort of place. At this point the U.S. Postal Service Priority Mail, insured for the horn's value, may be the quickest, most economical and most convenient shipping method.
The fix should be good for the life of the horn. I know personally of two repaired horns that have withstood chemical cleanings with the casing sealing in tact. However, if one has his or her Yamalloy horn cleaned ultrasonically by Wayne Tenabe at The Brass Bow in Chicago, the cleaning is so thorough than that valve sealing material is also cleaned right out, causing a reappearance of the curse. Don't ask me how I know this.
If anybody is in this situation who comes upon this with one of these horns that has this problem, suffer no longer. Bob Frost can be contacted by e-mail for price, shipping directions and further information at Tptrx@cs.com.
I have had reports that BiNak 495, a non-petroleum mineral oil-based valve oil, distributed now by Selmer, can ameliorate the Yamalloy curse, but success seems to depend somewhat on body chemistry, just as the problem seems to be caused in some measure by body chemistry.Some people don't have the problem at all, some find that Binak solves it, and for others it doesn't. In any event, it would be worth giving it a try first because it is the cheapest alternative. A thinner version, Binak Pro, has proved equally successful on horns with tighter tolerances.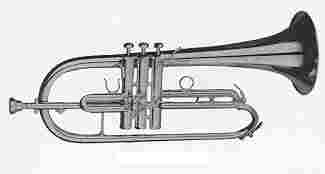 Once upon a time, Schilke made a flugelhorn. It was a funny looking thing that had horizontal valves, with first and third valve slide rings, and a bass trumpet bell. It was quite long, as long as a Schilke B flat and shorter (i.e. narrower) than the flugelhorns with which we are more familiar. The bore was also somewhat larger than is typical of the common modern flugelhorns. (For a larger photo, go here.)
Schilke started making their flugel in 1967 and discontinued them in 1982. They were made in very small numbers, something like a total of 125 over the whole fifteen year period, according to a former employee. Many (most?) had the Yamaha valve casings and occasional inherent problem. Renold Schilke himself tried (unsuccessfully) to improve the horn in the 70's, tinkering with the design repeatedly, but the company discontinued the manufacturing flugelhorns after Schilke's death in 1982. The horn had so many little modifications while it was in production, many of the 125 are different from any of the others. Notwithstanding the considerable efforts to improve it, it remained unpopular with both the employees, who recognized it for the dog it was, and with flugelhorn purchasers. While it was an interesting horn, it was not much of a flugelhorn. I played one years ago, and I recall it being... interesting... that's it: it was interesting....
It wasn't so interesting, however, that it didn't have any influence. The Schilke flugelhorn was used as inspiration by F.E. Olds & Son, right down to the hexagonal valve buttons and caps, in the Olds Superstar model flugelhorn, an even more interesting horn. I am grateful to Lawrence Van Ameyde, who used to own a Superstar flugel, for this information. Olds briefly went on a Schilke copy kick and released a few models clearly inspired by the look, if not the feel of Schilke instruments. Perhaps not coincidentally, these models were released by Olds, then owned by Norlin, in the late 70s, shortly before the company went out of business. It was Olds during this period that Yamaha sued in defense of the tuning bell patent secured by Renold Schilke but given to Yamaha.
Occasionally a Schilke flugelhorn will come up for sale. If you are in the market for a well made, rare and interesting horn, one of these would make a great addition to your collection; but if you need a flugelhorn, look elsewhere.
Trumpets.
Although Schilke is famous for the trumpets and cornets they make, during Mr. Schilke's life, he was willing to venture into unfamiliar territory. As a result, the company made valveless natural trumpets and many experimental or custom trumpets, including A/B flat convertible trumpets, a quarter tone trumpet, four valve (lower range expansion) B flat and C trumpets, pocket trumpets, alto trumpets, bass trumpets, a contra bass (!) trumpet, and herald trumpets in a number of keys.
For some pictures of a coiled Schilke natural trumpet in D, with a C crook, go here.
Trombones.
Dave Tall, a bass trombonist with the New Mexico Symphony, recalls that Schilke made a few trombones in the '80s from Yamaha parts. These were .547 "orchestral bore" tenors with unlacquered bells and F valves. They had a couple of different tuning slide shape options to change the way the instrument responded. Frank Crisafulli, at the time second trombonist with the Chicago Symphony and teacher at Northwestern, played one for at least a couple of years in the early 80s, recalls Mr. Tall, who studied with Crisafulli at the time. These were not custom made instruments (though certainly reflecting the design assistance of Mr. Crisafulli) but prototypes that Schilke was considering taking into production and adding to the catalog.
In January 2005, a trombonist, Peter C. Pettit, wrote me about his experiences with Schilke trombones:
I had Schilke put [a trombone] together for me in the winter of 1979. I had gone to a Canadian Brass [editor's note: At that time, the Canadian Brass played all gold plated Schilke instruments.] concert in Toledo, Ohio one evening and went up to Gene Watt after the concert and introduced myself. (I was principal trombone in the Toledo Orchestra and trombone teacher at theThe University of Toledo at the time.) When I told him who I was, he handed me his trombone and insisted that I play it. It was a gold-plated Schilke that Ren had just "built" for him, the second that he had done for him actually. It played like a dream and I had to have one.

So I contacted the Schilke company (If memory serves me correctly, Kerry Griffith was the person I had dealt with. But that was 25 years ago, so my memory might be a little faulty.) I received it sometime in January or February of 1980, a straight bell instrument, no f-attachment, serial number 003, Gene Watt had the first two.

I didn't play it in the orchestra at first, feeling that it was a little light But I did play it in the brass quintet and it worked well there. I decided to leave the orchestra a couple of years after that and did play it in my last season. I didn't play for many years after that and the instrument sat in my basement, except for the 15 minutes I would pull it out, once a year. But I've been playing a little more over the past three or four years and am very glad to have it. I can pull together some chop in a reasonably short time and manage to sound 'respectable' when I play....

By the way, I hadn't realized that Cris (Crisafulli) had played one. While I was a student at Michigan in the early-mid 70s, I would drive to Chicago occasionally for a lesson. What a guy and what a great teacher. He could always get me to play better than I ever could play elsewhere. He really taught me to sing with the instrument.
French horns.
Schilke French horns were made by employee Jerry Lechniuk, an immigrant from the Ukraine. He had spent time in a concentration camp during WWII. Upon his release, Jerry immigrated to Manchester, England. He had a friend who had a repair shop there and with the brass band phenomenon there was plenty of work. He started on the last of ten repair benches, and within 2 weeks had worked his way up to the 1st bench. He worked there for 2 years and then emigrated to America. He came to Chicago and began working with Carl Geyer in approximately 1948. He worked for Carl for about 10 years and when Carl sold his shop to other owners, Jerry then left to work at Karns (sp?) Music. In about 1964 or 1965 he came to work for Renold Schilke, the best I can recall as a repairman of French horns. In the early 70's Jerry began to develop a french horn that was built around Yamaha parts with Jerry designing the critical tapers. He made 23 double horns, 2 B flat horns and 2 natural horns. He passed away from a massive stroke at the age of 58. There was one unfinished horn on his bench which Steve Lewis finished before leaving Schilke. (This information about Jerry Lechnuik is courtesy of Karl F. Hill.)
Tubas.
In addition, Schilke, in collaboration with employees who had experience in fabricating other horns, made a few tubas, usually using Yamaha parts.
Repair and Restoration by the Schilke shop
Traditionally, the Schilke factory, as well as making fine horns, was one of the nation's premiere shops for custom and repair work. For example, they would convert your Bach C trumpet to a tuning bell design, if you wished. Several years ago, however, the decision was made to repair and do custom work only on Schilke's own products. For those of who played such products this was good news because it moved us up to the front of a very long line.
One of the advantages of playing a Schilke trumpet was the commitment that the company had to insuring the continued playability of all the instruments they've ever made. The practical impact of this was that Schilke would overhaul, restore, and replate Schilke horns for an unusually low cost. This was unexpected because the work done on the horns was as flawless as the original manufacturing work for which one would expected to pay a similar premium in price. Not so. Perhaps the greatest fringe benefit of having a Schilke was the amazingly low price required to bring it back to top shape by the people who made it. For a time from the late 90s until 2003, Schilke, with the loss of some employees, greatly restricted the repair work, continuing to focus on maintaining the quality of manufacturing of the instruments.
However, in January 2004, under the new ownership, Schilke announced that it would resume the repair and restoration of Schilke instruments. Schilke offers a limited lifetime warranty and with the high expectations of quality their customers have, the ownership felt they should be responsible for any repairs. They also believe that they could do the best job modifying their own horns. It appears as a result that the availability of Schilke parts will also now be restricted. If you want your horn repaired with parts from Schilke, then you will need to contact them directly.
For many years Schilke repair work was performed in house by Ron Pinc (pronounced like "Prince" without the "r"). Pinc left Schilke to open his own repair facility and to work with Scott Laskey on the Laskey/Pinc Bach conversions. In addition to his work on the small brasses, he is an expert on french horn repair. Pinc is extremely knowledgeable about Schilke instruments and does flawless work. But as is often the case with the work of extremely high quality, there can be a wait for an appointment. Ron Pinc can be reached by phone at (630) 889-2188 or by fax at (630) 889-2190.
Another former Schilke employee who also does valve work, trumpet repair and restoration is Steve Winans, also in greater Chicago. He is highly recommended as well. He can be contacted through his web site.
---
The Schilke Loyalist
© 1999 - 2006 by James F. Donaldson
All rights reserved