Q: Have we mourned adequately the fate of Benge?
---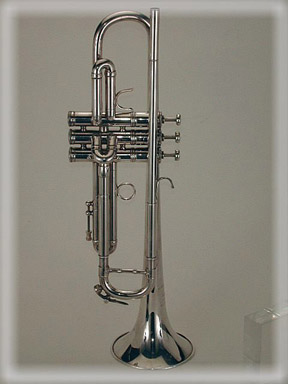 A:
Once upon a time, Pat Olguin had a web site called "The Benge Nut" that one day just disappeared as a result of disturbances, convulsions, and mergers in the force. This humbly takes its place. Photo on this page courtesy Paul Ayick. Check out Paul's photo archives.
Elden Benge was born on July 12, 1904, in Iowa, but moved in 1921 to Glendale, California. He started cornet at age 7, and played in several dance bands while in high school and went on the road his last year of high school.
He made his way east and played trumpet in the Detroit Symphony from 1928 to 1933.
The Chicago Period.
He then moved to Chicago where he played in the Chicago Symphony and other local orchestras. Around 1934, in the basement of his house on Berwyn Avenue on the northwest side of Chicago, he started to make copies, with some improvements, of F. Besson trumpets, which were nearly universally played in large orchestras at the time (Vincent Bach's and Dominic Calicchio's first trumpets were also copies of F. Bessons). In 1937, he sold his first custom built trumpet to a fellow member of the Chicago Symphony trumpet section. At that time he manufactured the horns in the basement and lacquered them in the kitchen. He used parts from other makers for several years. At some point he moved to a house on Major Avenue and continued his manufacturing. By 1942, Benge moved to 1945 Morse Avenue on the north side of Chicago where the great majority of the Chicago Benge trumpets were made. The horns remained almost cosmetically indistinguishable from the F. Bessons, especially including the second valve slide that faces the bell rather than the mouthpiece, throughout their production. Virtually all the details and braces were the same as well. Benge was a friend and neighbor of Renold Schilke and Schilke, with his experience in machine tools, helped Benge set up his manufacturing shop. There are not a lot of these "Chicago Benges" around (go here for an estimate) but they are popular with both collectors and players, costing a premium, like New York Bachs. The trumpet played by Herb Alpert on his recordings is a Benge made in Chicago in 1951. A friend has a Chicago Benge and it plays very well. For an article about Elden Benge's early days, go here.
Elden Benge was a fine trumpet player. When he was healthy, Elden Benge was about 6'2", but when he was older he was all crippled up with arthritis of the spine and stood nearly a foot shorter. According to Frank Kaderabek, Benge would sit in a desk chair and lean back to play the trumpet. His sound, according to Kaderabek, was gorgeous--soft and refined.
At some point, the bell hallmark changed from "Hand Tempered Bell" to "Resno-Tempered Bell" and did throughout the product run of Benge B flat trumpets until manufacturing was suspended by Conn-Selmer in 2005. According to Donald Benge, "Resno-Tempered" means the process of hammering and annealing (heating) the one piece bell into shape as specified and practiced by his father.
At the time "Resno Tempered Bell" was included on the bell hallmark, another change was made: E. BENGE is spelled out with the notes on a short musical staff, including an ingenious way to get the "N" in there. Wanna see a picture? Look here. For the even earlier bell hallmark, go here. The staff remained for a few years into the Burbank period.
According to Donald Benge, all the Chicago B flat trumpets are either 3x (.460) or large bore (.468).
The horns were sold through professionals that played in the orchestras: Louis Davidson in Cleveland, Bernie Adelstein in the Minneapolis Orchestra, and Frank Kaderabek in Dallas--every orchestra that had a guy that was using a Benge trumpet. They were his salesmen.
Kanstul's "Chicago" model trumpet, in current production, is advertised to be a copy of one of these horns.
For an amazing amount of detailed information about Chicago-era Benges, check out the site of Joe Lill on Elden Benge and the Chicago Benge Trumpet. For those who find this page a mere appetizer for information about Elden Benge and Benge trumpets, Joe's doctoral dissertation is a four course meal. A copy can be purchased from him in a couple of different formats at reasonable prices. Details are on his web page.
The Burbank Period.
In 1953, Benge retired from playing, resigned from the orchestras that he played with in Chicago, and moved to southern California. He continued making trumpets in his garage in Burbank, located at 1122 W Burbank Blvd (for an exterior photo of the place, taken by Mike Ackerman in 2003, go here). Elden Benge was killed in a car acccident in front of his house in 1960, and his son Donald then ran the company. The production was around five per week or 225 horns per year prior to 1960 and increased to twenty-two horns per week from 1960 to 1971. The bells lose the little music staff and just say "Custom Made by E. Benge" and the street address in Burbank. During this stretch he made B flats in several models, C's, and a D/E flat. According to Donald Benge, other than the 3x and the large bore which are Chicago era designs, the 2x, 3x+ (.464) 4x and 5x are were designed between 1952 and 1960 by Elden Benge. For more details, see the The Burbank Benge spec list from 1969 posted by Ralph Jones.
These Burbank horns are really the flowering of the Benge production and are nearly uniformly good players (with the possible exception of some with quite flat D's on the fourth line). They are still highly desirable and I imagine most of the production is still being played by somebody somewhere. There is an active market in these horns and there are always some for sale and someone eagerly willing to buy them. I have the famous catalog from the period of the 1969 price list, which includes a full color back cover picturing Herb Alpert (in his TJB days) as well as pictures and endorsements from dozens of professional players (including my high school band director).
The famous Benge pocket trumpet was designed by Lou Duda, then an employee at Benge, dates to this period. The design has remained popular and UMI/Benge maintains the horn in their catalog. Zig Kanstul makes the nearly identical Kanstul and Burbank 5 star pocket trumpets. Lou Duda is the father of John Duda, formerly the brass specialist at Tulsa Band Instrument Co., and now one of the owners of Calicchio trumpets.
The Burbank Benge spec list from 1969 includes the short-lived "Jubilee" line. Until recently, I'd never seen one or heard of anyone actually having one. Then I was contacted by a fellow who wondered what kind of Benge he had and the description was a puzzler... he then sent pictures. A Jubilee B flat! These apparently have serial numbers starting with 300. There can't be many of them. They have lots of details which are unlike any other Benges.
According to Donald Benge,
I discontinued the Jubilee line simply because we could not make the trumpet significantly cheaper without compromising the quality. Once you establish a standard, you cannot degrade it without ruining your reputation. I didn't want to do that.
Through the 1960's, Benge did not do any signifcant advertising except by word of mouth and sold horns only through a network of professional trumpet players. A new Benge trumpet arrived by REA Railway Express and came in a cardboard box, protected by wadded up newspaper padding. No case and no mouthpiece were included.
Check the spec list and price list for 1969.
Check also the photos of the California-made Benge bell hallmarks.
The Los Angeles Period.
In December 1970, Donald Benge sold the company to Leisure Time Industries and production was moved from the Benge garage to a small shop in downtown Los Angeles in the back of Lockie Music, also owned by Leisure Time. Almost immediately players started complaining that the horns weren't as good as the Burbanks. This was puzzling to the people at Benge since it was the same craftsman with the same materials and tools making the same horns. To stem the tide Benge did a unique thing to help the players' perception, and presumably, their sales. Benge began stamping the Bells with "Custom Made by E. Benge Burbank Calif." (without the street address - 1122 W. Burbank Blvd.). a picture of which is here. These horns are actually the rarest of all Benges, consisting of approximately 60 horns between the serial numbers of 8280 and 8380, but are probably the least sought after. Thereafter the bells said "Los Angeles, Calif." where the Burbank address used to be.
The famous and still much sought after Benge pocket trumpet was introduced in 1970, according to Donald Benge. In 1972, Zigmant Kanstul, after working at F.E. Olds & Son in Fullerton since the early 1950s, started to work for the company while in downtown Los Angeles, eventually becoming the shop foreman.
In 1972, H.N. White Co. (i.e., King) bought Benge from the successor of Leisure Time, and built a new production facility in Anaheim and greatly increased production. The location on the bell, however, remained "Los Angeles, Calif." It was more complicated than this, and if you want to know the legal details, go here. This was similar to Selmer purchasing Bach and moving production from Mt Vernon to the former Conn facility in Elkhart, and G. Leblanc purchasing Holton. Bach production jumped five fold in five years during the late 60s and Benge production also greatly increased, though not as spectacularly as Bach.
Check out the 1972 price list and product list, if you wish.
During this same period in the early 70s, the Benge product line expanded to include the three different flugelhorns, designed by Zig Kanstul, the piccolo trumpet, and the Claude Gordon model trumpet. For more information about Claude Gordon himself, go here. For more information about the development and specifications of the Claude Gordon Benge trumpet model, go here. The Claude Gordon model was in the catalog by 1976 described as the 6xCG, with a .464 - .468 bore. For the 1976 spec list, go here.
Late in the 1970s, one additional trumpet was developed, the rare Benge 7x. It has an LP (Large Plus) bore (0.470). It had a big bell, a huge sound with great balance and flexibilty, according to Jean Pocius who is still lusting for one. It wasn't included in the 1976 spec list, so was likely introducted after that. They had a limited production run and although there are some UMI 7xs out there, it was soon dropped from the UMI catalog.
The U.M.I. Period.
King continued the production of the Benge product line in Anaheim until 1983, when they moved production to Eastlake, Ohio, the H.N. White (King) shop. In 1985, G.C. Conn purchased King and later that year both were absorbed by a Swedish conglomerate and the resulting company was named United Musical Instruments, or U.M.I. The last Los Angles Benge horns have serial numbers, so far as I have been able to determine, in the 44XXX range, though there are some odd horns in the transition that were made in Ohio with parts made in Los Angeles, etc. They may have Ohio bells but valve casings with five digit serial numbers or other anomalies. Most of the Benge designs stayed in UMI catalog for a while but slowly thinned. These "UMI Benges" are considered inferior, sell for less used, and are of uneven quality. They have "USA" stamped on the bell where the Burbank and Los Angeles identifications appeared previously. Also, all of the Ohio horns have six, or later eight, digit serial numbers.
The Conn-Selmer Period.
In 2000, UMI was purchased by Steinway, the owner of Bach-Selmer, makers of Bach trumpets, and the corporate name changed to Conn-Selmer. The classic Benge product line continued to diminish in favor of the Eastlake designed instruments, like the Lenore series. The 3x and the 3x+, the piccolo trumpet, and pocket trumpet became the last remaining classic Benge instruments in the catalog until production of all Benge products was suspended in 2005. Existing stock was still available for sale and marketed for a couple of years. By 2007, however, the only Benge instruments offered for sale are a bass trombone (!!!!!) and the Colibi (whatever that means) pocket trumpet. The end is in sight and will surely come ...
° ° ° ° ° ° ° ° ° °
Zig Kanstul After Benge.
Kanstul quit working with King/Benge around 1979, before the closing of the Benge Anaheim facility, and he worked for G.C.Conn supervising and inspecting Conn's various manufacturing facilities. In 1981, shortly before King moved the Benge production east, Kanstul opened his own shop about 15 minutes away in a different location, sharing space with a motorcycle accessories plant. Later Kanstul moved to Fullerton into his own (owned or leased) building and started making horns for Boosey and Hawkes. Later, Kanstul made copies of the Benge line and called it The Burbank Trumpet. This was when he was in Fullerton and had nothing to do with a Burbank location, although the old Benge address on Burbank Ave was stamped on the bell (don't ask me why---but then the Kanstul made F. Bessons had the original French bell hallmark including Made in Paris on the bell, too). These horns were copies of the classic Benge horns and are great horns. Production of The Burbank has never been very large but the horns are well made and play well. Donald Benge was involved for a while, but Zig eventually bought him out. For a picture of the Burbank bell hallmark, go here. The Burbank trumpets (models 3s, 3s+) are currently exclusively distributed in the United States by Michael Thomas Music in California. For around 15 years, from the early 80s until the late 90s, Kanstul manufactured the F. Besson line for Boosey & Hawkes and for a time made valve casings for Roy Lawler. Kanstul now makes other small production horns including the Flip Oakes Wild Thing, the Virtu trumpets, and some of the Zeus instruments sold by Zachary Music in Canada.. He also obviously makes and markets an extensive line of outstanding instruments under his own name.
At this point, if there is a Benge legacy, it's found in the Chicago line of trumpets made by Kanstul. There is a medium large bore (0.460), medium large plus bore (0.464), and a large bore (0.470) model. They are advertised as copies of the Chicago Benge and Zig should know. They certainly look the part. They are also reasonably priced for a pro quality trumpet. If you want something newer than a 25 year old LA Benge, that's where you go.
° ° ° ° ° ° ° ° ° °
Donald Benge, a very interesting man with wide recognition in coin collecting, gaming and fencing circles, was killed at the age of 73, on April 6, 2007, when his car was hit by a drunk driver in Burbank, California. He was still living at 1122 W Burbank Blvd at the time of his death. As of October 2008, the property is for sale. Given the area and the price, it is likely the site will be redeveloped and the home and garage demolished.
° ° ° ° ° ° ° ° ° °
Serial Numbers
David Cox had preserved Pat's Dating Your Benge page and I am pleased to be able to post it. Pat's list was a valiant effort at extrapolation with somewhat limited data (and at least one serious calculation anomaly) and we are laboring to improve it by assembling an early Benge Data Base. At this point, I modestly point out, the Data Base is a significant improvement over Pat's list and will give you a far more accurate estimate at the date of manufacture of your Benge. If you have a Benge horn with a serial number under 10000, and you know when it was purchased new by the original owner or know when it was manufactured, please let me know the year, date, model, and location as stated on the bell.
Values
I get lots of inquiries about the value of Benge trumpets, so for a wild guess, go here.
° ° ° ° ° ° ° ° ° °
Most of this information has come to me over the years from the late Donald Benge, Mike Ackerman, David Cox, John Duda, Bob Eye, Ralph Jones, Joe Lill, Pat Mayer, John Mohan, Pat Olguin, R. Dale Olson, and and those who have contributed information to the data base. I am grateful for their help.
Like always, if somebody knows anything more about any of this, please tell me.
---
|| The Trumpet Gearhead ||
© 2001-2008 by James F. Donaldson
All rights reserved